The New Order Frequently Asked Questions List
Version 2.3 March 1997
Authors: Dennis Remmer, Richard P. Kernin, Richard W. Rackham
Structure (c) 1997 by Dennis Remmer
If you'd like to see something new/clarified/fixed, drop me a line.
New this version: Updates to Band Equipment,
On-line New Order Resources, and
UK Chart Positions.

---
Table of Contents
---
Band Members
New Order are:
Bernard Sumner (known as Barney)
Born January 4, 1956
Peter Hook (known as Hooky)
Born February 13, 1956
Gillian Gilbert
Born January 27, 1961
Steven Morris
Born October 28, 1957
Joy Division were:
Ian Kevin Curtis

Born July 15, 1956 in Stretford, United Kingdom
Died May 18, 1980 at 77 Barton Street, Macclesfield, United Kingdom
Bernard Sumner
Peter Hook
Steven Morris



With early appearances by:

Terry Mason
Tony Tabac
Steve Brotherdale
Electronic are:
Bernard Sumner
Johnny Marr



With guest appearances by:

Neil Tennant (Pet Shop Boys)
Chris Lowe (Pet Shop Boys)
Karl Bartos (Elektric Music, ex-Kraftwerk)
Dave Palmer (ABC)
Anne Dudley (Art of Noise)
Revenge were:
Peter Hook
Chris Jones (Engineer at Peter Hook's studio - Suite 16)
Dave Hicks (formerly of Lavolta Lakota)
Dave Potts
Monaco are:
The Other Two are:
Gillian Gilbert
Steven Morris
---
People Associated With New Order
Rob Gretton

Manager of the band (and previously manager of Joy Division). It was Rob who suggested to the band that Gillian joined them, and who also suggested to them to invest in the Hacienda and Dry 201.
Tony Wilson

Co-Founder of Factory Records and television presenter. Signed Joy Division to Factory. Reknowned in Britain for promoting Factory acts on his own TV shows.
Peter Saville

Person responsible for artwork of all NO record covers.
Quincy Jones

Owner of Qwest Records who release NO's music in America. Also remixed Blue Monday for them in 1988.
---
UK Release Dates & Chart Positions

Ceremony							Feb 1981
Ceremony (different version)					Jul 1981
Movement (LP)							Nov 1981
Everythings Gone Green						Sep 1981
Temptation							May 1982
Blue Monday							Mar 1983
Power, Corruption and Lies (LP)					May 1983
Confusion							Aug 1983
Thieves Like Us							Apr 1984
The Perfect Kiss						May 1985
Lowlife (LP)							May 1985
Sub-Culture							Oct 1985
Shellshock							Mar 1986
State of the Nation						Aug 1986
Brotherhood (LP)						Oct 1986
Bizarre Love Triangle						Nov 1986
True Faith							Jul 1987
Substance 1987 (LP)						Jul 1987
Touched by the Hand of God					Dec 1987
Blue Monday 1988						Mar 1988
Fine Time							Dec 1988
Technique (LP)							Feb 1989
Round and Round							Mar 1989
Run 2								Aug 1989
World In Motion							Jun 1990
Regret								Apr 1993
Republic (LP)							May 1993
Ruined in a Day							Jun 1993
World (The Price of Love)					Sep 1993
Spooky								Dec 1993
True Faith 94							Nov 1994
? - The Best of New Order (LP)					Nov 1994
Nineteen63							Jan 1995
Blue Monday 95							Jun 1995
? - The Rest of New Order (LP)					Aug 1995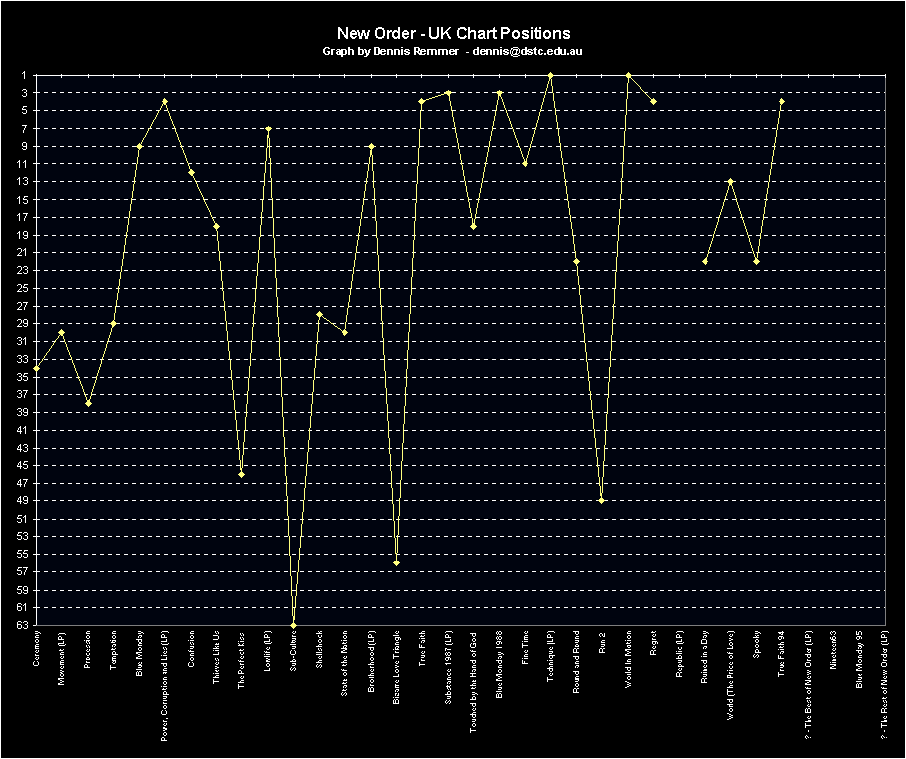 ---
Band Name Origins
Joy Division

They chose Joy Division, the name coming from a lurid novel of sado-masochism in German concentration camps entitled The House of Dolls. The book also contributed a (somewhat censored) verse for the song "No Love Lost". The "joy divisions" were those which housed prostitutes and women kept alive for the pleasure of the officers of the camps. The irony, if not the political implication, was obvious.
New Order

...the band's official story is that Rob Gretton had spotted a news article in the daily paper which spoke of the "The people's New Order of Kampuchea", taken from from a piece in the UK paper, The Guardian (according to Select 9/93), and the phrase "new order" caught his attention. The reality may be a mixture of this and the following (from NME, 28 Feb 81). The name New Order, which was obviously appropriate considering the circumstances, had been used before. As was pointed out earlier, the band were great Iggy Pop and the Stooges fans, and after guitarist Ron Asheton left the group he formed, in Los Angeles in 1975, a band called The New Order whose 1977 album sleeve contained a lot of Nazi paraphernalia. It is unlikely to the point of improbability that Joy Division were unaware of both the group and their album.

Though other names were put forth as possibilities (many as jokes: "Stevie and the JDs" [Morris was handling much of the vocals on the demo work - mike], "Sunshine Valley Dance Band", "The Eternal", etc.), the band kept returning to New Order. They realised that they would immediately be taken to task again as "Nazis", but decided that they liked the name and that was the only consideration...

The Sunshine Valley Dance Band was a band that Steve used to be in before he joined Joy Division. It was basically him and a few school friends. I doubt the name was used as a replacement for Joy Division.
---
What do the colour codes on PC&L, BM and Confusion stand for?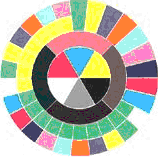 Peter Saville designed a colour code for use on several releases circa-83. The decoder is the wheel design on the reverse of the cover to Power, Corruption and Lies. To clear things up a little, the colour wheel describes the meaning of the coloured squares on (not only) Power Corruption & Lies, (but also) Blue Monday and Confusion.
To decode the wheel, use only the outer two rings. You could divide the outer two rings into full colour, various on green, and various on yellow. The inner segments appear to be meaningless. Start with the full colour sections, the first of which will be the green one... This is 'A'. Work your way clockwise naming each colour the next letter. There are exactly 26 segments around the disc. From 'Z' work back into the full colours, the first of which is '1'. This means that the full green segment is either 'A' or '1', and the colour for 'I' is also that for '9'.
You should be able to decode the squares now. Start with the 5 on the front of Power Corruption & Lies, and you will find (if you have the vinyl) that the first 4 squares spell 'FACT' then next square is divided into two, with the lower half being '7' and the upper half being '5'. Therefore the code is 'FACT 75' which is the Factory number for this release. The code for the CD front cover is 'FACD 75'.
Other codes for the various items having the coloured squares are:
Inner cover PC&L: Power Corruption And Lies New Order
Blue Monday 12" Sleeve: FAC 73 Blue Monday And The Beach New Order
Confusion Outer Sleeve: FAC 93
See if you can guess the code at the top of this document!!!
---
What names has Bernard Sumner gone under?
Bernard was born Bernard Dicken, but has used several surnames. Here is a list of names he has appeared under:
Bernard Dicken
Bernard Sumner
Bernard Albrecht
Bernard never knew who his father was, so he grew up with his mother and grandparents in Salford. He originally used his mothers surname Sumner, but when she married, he changed it with her to Dicken. Later on, he changed it to Albrecht, and then changed it back to Sumner. When asked about the name changes, Bernard has said that it's "A story in itself. I don't talk about stuff that is private to me." (Select 9/93). Bernard is known by the rest of the band as Barney.
The name Barney Rubble has been mentioned on bootleg material, so it is likely that the bootleggers did not know Bernard's surname, or it's a pisstake...
---
What is the Hacienda and Dry 201?
The Hacienda is a nightclub in Manchester (11-13 Whitworth Street West) that was set up with funds by Factory Records and New Order. The Factory number for the night-club is FAC 51 (The complete name for the club is FAC 51 THE HACIENDA). The Hacienda was set up originally to be like the old club The Factory where local bands would play live gigs. However, for the first 7-8 years, the club was not that successful. When the club was in financial problems, the band would either put money in, or play concerts there. By 1988, the club became successful with DJs like Greame Park and Mike Pickering (now part of M-People) spinning the latest acid house records. The club soon became "the popular club in Britain". The club had to temporarily close in 1990 due to gangland violence (a bouncer was shot there) but reopened a few months later. The popularity of the club has decreased a bit, although some of it's specialist nights (notably the gay night "Flesh") are still very successful. New Order are still on the board of directors for the Hacienda, although they have said that they wish they weren't.
Dry 201 (Oldham Street) is a bar that New Order and Factory purchased. The Factory number for it is FAC 201. Dry 201 was considered to be the "trendy" bar in Manchester, with it once being described as "THE place to go before going to the Hacienda".
It is unlikely that you would see New Order regularly at either Dry or the Hacienda, although if they are found anywhere enjoying the night-life, then it is likely that they will be at one of these places.
---
What is said between Perfect Kiss and the beginning of This Time of Night on Low Life
Well, if you turn the volume up enough, you should hear:
I'm one of the few people who lives what's called a low life
The sample was taken from Jeffrey Bernard, a columnist for the UK magazine The Spectator. However, Jeffrey tried to sue, and the sample was removed - or rather recorded over, which is why if you turn the volume up, you can just about hear it (especially on CD).
---
What is the song The Happy One?
The song was originally recorded during the sessions in Ibiza for Technique. Although Tony Wilson and Rob Gretton, liked the song, the band didn't like it, so it was never put on Technique, although it appears in segments on the Substance video. However, after Technique was released, Peter Hook appeared on a late night TV programme called The Other Side Of Midnight (presented and produced by Tony Wilson), and played this song with a large number of sequencers and computers (the rest of band couldn't be bothered to turn up). This is the only public performance of the song The Happy One and has appeared on a number of bootleg records. Some bootlegs are rumoured to exist with the studio verson of the song, that contains lyrics.
The Happy One was also used for about a year on the BBC1 radio show under the same name with John Peel.
Also, a Factory promo CD (FAC 303) made as a promo for the French release of Palatine, titled Palatine Lane, included several Intermede Musical tracks which were excerpts from The Happy One. See the 2nd part of the Factory Discography for more details.
---
Do the numbers on the cover of Thieves Likes Us mean anything?
No - they were taken from a board-game on a painted table in Blair Castle. Peter Saville found the picture from a magazine called Country Life. There is no number seven, and TLU was the 7th single - this was accidental.
---
Groove Notations
The following is a list of "groove" notations for 7"/12" vinyl NO releases. These are message scratched into the vinyl matrix of the records, along with matrix numbers and pressing details.
A common message is A Porky Prime Cut!. Porky Prime Cut : He is/was George Peckham, who does the mastering at (I think) EMI, he allegedly only puts this message on records he likes - it's just not the same with CD's is it? [Thanks to Nick Dillon for that]

"What exactly do you mean, Peter?"			- Technique (A)
"?reteP, naem uoy od yltcaxe tahW"			- Technique (B)
"All these crabs"                                       - Perfect Kiss 12" (A)
"Are making me itch"                                    - Perfect Kiss 12" (B)
"See an old soldier right"                              - Brotherhood (A)
"More juice please"                                     - Brotherhood (B)
"Hail Mary"                                             - St of the Nat 12" (A)
"Lucky Johnny"                                          - St of the Nat 12" (B)
"The death of an art spells the murder of artists"      - Run2 12" (B)
"Try listening to the 12""                              - Temptation 7" (A)
"What do you think?"                                    - Temptation 12" (B)
"Why did Regulus go back to Rome?"                      - Ev Gone Green 12" (A)
"Out Voted!"                                            - Blue Monday 12" (A)
"Ho El & Tel!"                                          - Blue Monday 12" (B)
"Soft"                                                  - Procession 7" (A)
"Hard"                                                  - Procession 7" (B)
"Watching forever"                                      - Ceremony 7" (A)
"How I wish you were here with me now"                  - Ceremony 7" (B)
"Watching love grow forever"                            - Ceremony 12" (A Gr)
"How I wish we were here with you now"                  - Ceremony 12" (B Gr)
"This is why events unnerve me"                         - Ceremony 12" (A Wt)
"How I wish we were here with you now"                  - Ceremony 12" (B Wt)
"A smart cut..."                                        - Biz Lov Tri 12" (A/B)
"Not the way I would've done it!"                       - Confusion 12" (B)
"So hip it hurts"                                       - Shellshock 7" (A)
"Watch out for the dwarf"                               - Shellshock 7" (B)
"Goodbye Davy Pils"                                     - Substance (1A)
"The pleasure and the pain"                             - Substance (1B)
"Of an extended childhood"                              - Substance (2A)
"Steven won't go to stockport"                          - Substance (2B)
"We are the"                                            - Italian 7" (A)
"Art and soul"                                          - Italian 7" (B)
"Don't ever let it fade away"                           - Ideal for Liv 12" (A)
"Feel it closing in"                                    - Ideal for Liv 12" (B)
"This is the way"                                       - Unknown Pleas (A)
"Step inside"                                           - Unknown Pleas (B)
"I've been looking for a guide"                         - Unknown Pleas (B US)
"Don't disillusion me"                                  - LWTUA 7" (A)
"I've only got record shops left"                       - LWTUA 7" (B)
"And how I'll never know"                               - Transmission 7" (A)
"Just why or understand"                                - Transmission 7" (B)
"I've seen the real atrocities"                         - Transmission 12" (A)
"Buried in the sand"                                    - Transmission 12" (B)
"I thought of bananas till you played it"               - Earcom 2 (A)
"Hey Peel kick out the jams"                            - Earcom 2 (B)
"Old Blue"                                              - Closer (A)
"Here are the young men"                                - Atmosphere 12" (A US)
"But where have they been"                              - Atmosphere 12" (B US)
"The chicken won't stop"                                - Still (1A)
"The chicken stops here"                                - Still (2B)

---
Is there a "True Faith" CD single with remixes available?
Yes, a UK "True Faith" CDV (CD Video) and a US CD promo exist that have mixes of the track on them. Here is the pertinent information:

   CD5:	US 1987	(Qwest PRO-CD-2899) [promo]
	4:04	True Faith (the morning sun remix/edit)
	4:10	True Faith (album edit)
	8:59	True Faith (the morning sun extended remix)

   CDV:	UK 1989	(Factory FACDV 183) [PAL]
	8:59	True Faith (remix)
	3:44	Evil Dust
	4:04	True Faith (7" remix edit)
		True Faith (video)

Note that "True Faith" (remix) and "True Faith" (the morning sun extended remix) are in fact the same track.
Also, this is in addition to the 1994 remixes, and the 1995 release of Nineteen63, of which a limited boxed version had one of the '87 mixes on it. See the New Order Discography for more information.
---
Ceremony single clarification
Several instances of Ceremony were released back in 1981. 2 versions were recorded, the original without Gillian, and then a re- recording with Gillian. The latter appears on the Substance compilation. The original is yet to appear on CD. I'll try and get the recording details by the next version of this FAQ.
Here is a discography excerpt which should be clear:

    7": UK 1981 (Factory FAC 33) [gold sleeve]
        4:34    Ceremony
        4:35    In A Lonely Place

   12": UK 1981 (Factory FAC 33) [green sleeve]
        4:34    Ceremony
        6:12    In A Lonely Place

   12": UK 1981 (Factory FAC 33) [cream/blue sleeve] 
        4:22    Ceremony *
        6:12    In A Lonely Place

*  Re-recorded when Gillian Gilbert joined the Band.

---
Band Equipment
Here is an incomplete listing of equipment that the various members of the various bands have used. Some info derived from Tom Chess's site (possibly unavailable), and some info gleaned from a postings by various people (including material from Future Music, Issue 16, February 1994).

General

|  Equipment listed in an interview with New Order in the March 
|  1985 issue of Electronics & Music Maker:
|
|      Seq Circuits Pro One
|      Powertran Transcendent 2000 w/ Powertran 1024 Seq
|      ARP Omni
|      ARP 2600 w/ ARP Seq
|      Simmons SDS2
|      ARP Quadra
|      Moog Source
|      Boss Dr Rhythm
|      Prophet 5 w/ Seq Circuits PolySequencer
|      Oberheim DMX
|      Emu Emulator
|      Octave Plateau Voyetra

Bernard Sumner

|  Guitars  : Gibson SG Standard, Vox Phantom, Shergold Masquerader
|  Amps     : Vox UD 30 amp driving a Vox 2x12 cabinet
|  Synths   : ETI Synthesiser, Powertron Transcendant 2000 Synth, ARP Omni 12
|  Effects  : Woolworths Reed Organ, Melos Echo Unis, MXR 10 Band Eq, Chorus
|             Flanger, Attair PW-5 Power Attenuator, Melodian

Peter Hook

|  Basses  : Rickenbacker copy, Yamaha RB 1200
|  Amps    : (early) Marshal 50 Watt Bass Amp driving a 2x12 Vox cabinet.
|            (later)  Hiwatt 100 watt driving vox foundation 2x18 cabinet..
|  Effects : Chorus (of course)

Ian Curtis

|  Guitars : Vox Teardrop and Vox Phantom
|  Amps    : Vox UD30 amp driving a 2x12 Vox cabinet

Stephen Morris

|  
|  Comments: (General) As New Order, the first thing we had was a home-made
|            Transcendent 2000 and a Transcendent sequencer on which we
|            managed to triple the memory by piggy-backing some RAM. That
|            was 1979, before MIDI was invented. The first drum machine
|            we had was a Boss Dr. Rhythm. It was all plugging little mini 
|            jacks into mini jacks. It was all CV and gate.
|
|            When I eventually got a drum synthesizer and it made that 
|            'boo boo' noise, you can imagine my disappointment. ...
|            With Joy Division, there's a sound on Atrocity Exhibition
|            that sounds like feedback guitar with a pig being slaughtered
|            in the background - that's this tiny little drum synthesizer
|            put through a fuzz pedal. We also got the Oberheim DMX
|            and the Prophet V.
|
|            Playing live was a big problem. ... You'd turn it on, and 
|            more often than not, you'd just get rubbish out of it.
|            Our solution to this was to buy two or three of everything. 
|            In the case of the Prophets, we ended up at one particular
|            gig with five and we could only get one of those to work.
|
|            We started with the Emulator Is - the IIs and the Emulator
|            III are still in there. The only way you could get those
|            things working half the time was by whacking them with an
|            iron bar.
|
|            (Blue Monday) Moog Source and a bit of Prophet.
|            I think a lot of it was down to the nice little accidents, like
|            the knob-twiddling and Gillian starting the sequencer off in the
|            wrong place. None of those things really happen any more. Like
|            when you're editing a synth now, you've got to know exactly what
|            you want and how to do it. If you want to make it wobble a bit 
|            more you've got to know which parameters to tweak.

Gillian Gilbert

|  Comments: (General) We'd have this huge sheet of paper and
|            every little tick on it was a clock step. But when we
|            loaded tapes and the data wasn't there, we just
|            wouldn't believe it.
|
|            The Prophets were already unreliable, so when
|            the sequencers started getting that way as well,
|            everything got wiped. The Prophet was wonky and
|            playing out of tune and the sequencer wouldn't play back
|            anything at all.
|            
|            (Blue Monday) We tried to update it when we did the '88
|            version but the new equipment couldn't improve on it.
|            You never knew why things wobbled then, but now you've got to
|            find out why and go into it more.

[side note: Martin Hannet used ARP OMNI 12 through Bernards fx on the
Closer Album]


---
On Line New Order Resources
---